If you have a conservatory with an old polycarbonate or glass roof that is looking tired and is too cold in winter and too warm in summer then the perfect answer could be a solid tiled roof conversion from Projects4Roofing.
As a Guardian Warm Roof approved installer we can replace your conservatory roof with a solid tiled roof that is plastered internally. This will make your conservatory feel more like a room or extension and crucially, mean that you will be able to use it all year round, whatever the weather.
When you have decided to replace the roof on your conservatory for a new solid tiled roof, then one of the first questions you might have is 'will I need replacement roof planning permission?'
The simple answer is No, you do not planning permission to replace your conservatory roof with a solid tiled roof!
The design and engineering behind the Guardian Warm Roof system means that it is a lightweight replacement. So as well as being used to build new tiled roof conservatories, they can also be used to refurbish your old conservatory too.
This is sometimes called 'retrofit' by people in the industry and lots of homeowners are choosing to do this so that they can transform old conservatories that are too cold in the winter and too hot in the summer into spaces they can use all year round.
Solid Tiled Conservatory Roof Building Regulations
Although planning permission is not required an application for Building Regulations must be made when replacing your conservatory roof to ensure all works are carried out to current building standards. The Guardian Warm Roof system is fully approved by the LABC Local Authority Building Control. As an LABC accredited system the design and quality have been approved and the building regulations application is fast tracked through the system. As an approved installer we will register your new replacement conservatory roof with your local council, and the fee is included in your contract price. We will then arrange for the necessary site inspections to take place for you to receive your certificate of compliance once your new solid tiled conservatory roof is completed.
Can I Fit A Solid Tiled Conservatory Roof To My Old Windows & Doors?
Yes, you can install a new solid conservatory roof on your old frames. We will be able to carry out a survey and let you know whether they are suitable to have a new solid conservatory roof fitted on them.
Installing a solid roof can really improve the energy efficiency of your conservatory, but if the frames, windows and doors are very old and inefficient, you might not get the full benefits of your new roof. We will be able to advice you on the best choice for your home.
Insulation and Energy Efficiency?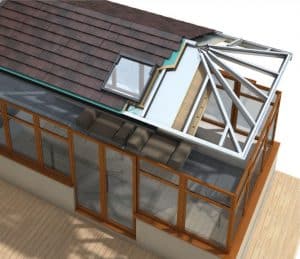 Most homeowners want to replace their conservatory roof with a tiled or slate solid roof because the one they already have is so inefficient – it is too cold in the winter and too hot in the summer.
Fully tested and approved to all thermal and structural standards, the Guardian Warm Roof roof is a high performance insulated roof system comprising of a pre-engineered lightweight frame, two layers of rigid insulation board, internal insulated plasterboard, ventilationsystem, exterior grade plywood and a vapour membrane. All together this creates a thermally efficient living space; keeping the warm air out in the summer and preventing the heat from escaping in the winter thus saving the amount of heat energy required to keep the room at an ambient temperature.
The high-performance insulation in the Guardian Warm Roof system achieves a superior U-Value of only 0.18 w/m²k, saving you money on your heating bills.
Choice of tile finishes
Membrane
Exterior grade plywood
25mm high performance insulation
40mm high performance insulation
Timber battens
72mm high performance insulated plasterboards
What is a U‐Value?
A U‐Value is a measurement of how effective a material is at insulation. In other words, thermal performance is measured by levels of heat loss and this is commonly referred to as a U‐Value. The lower the U‐Value, the less heat loss there is, so low U‐Values equal good thermal performance.
Typically, solid conservatory roof U‐Values are below 1.0 W/m2K, which means they have very good insulation and will retain the heat in winter and keep cool in summer.
Find out more about converting your conservatory roof here.